Figures collection of Planktonic foraminifera
All figures are scanning erectron micrographs taken by H.Hayashi(IGPS).
---
(Click on a figure to enlarge)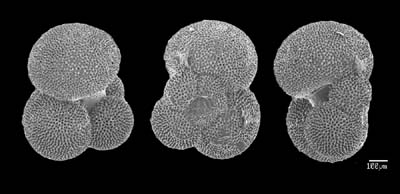 Globoquadrina pseudofoliata Parker
T. Saito collection #215 (owned by IGPS)(1 specimen)
RC12-331 Flow-in Indian Ocean 2 deg.30min. N, 69 deg. 52 min. E
Pleistocene

---
---
COPYRIGHT: (C) 2003 Hiroki HAYASHI and Tohoku University Museum ALL RIGHTS RESERVED.